SOS!! SOS!!!
There's a distress call coming from the theme "Fung-Sea Castle"!
Help them by taking on the new mini update "King Crab March"!


New Order+ Added!
---
*King Crab March*
Help! The Fung-Sea Castle has been overrun by King Crabby!
Harvest as many King Crabby as you can to save the Funghi!

How to unlock the new Order+

Bug Fix Implemented for the Library
---
Some users have reported being unable to remove the "!" icon from the Library, even after checking every Funghi entry.




If you are experiencing this issue, please follow the below steps:
1. Update the app to v.2.66.0
2. Harvest the newly added Funghi "King Crabby"
3. Check the "King Crabby" entry in the Library
We apologize for the inconvenience that this issue has caused.
We hope that you continue to enjoy playing NEO Mushroom Garden.


Next Month is NEO's 9th Anniversary!
---
On April 11th, NEO welcomes it's 9th anniversary!
To celebrate, we're preparing a new theme for next month's update!
Almost a decade has passed since the release of NEO, but we'll keep working to provide you with new and exciting content every month.
Please look forward to an exciting 9th year of NEO Mushroom Garden!
---
Update to v.2.66.0 now, and join in on the crab harvest!



Let's Download!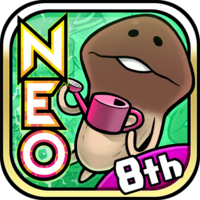 "NEO Mushroom Garden"