※Stickers are only available in Japanese text.


---
We have good news for all mushroom gardeners!!
For the first time in 5 years, we've released a brand new set of LINE stickers!


Wait...5 years? Has it really been that long...?

As the Mushroom Garden series celebrates its 10th anniversary, we figured it was the perfect chance to add some new stickers to the store!
Accordingly, we've named it..."Funghi's 10th Anniversary Stickers"!!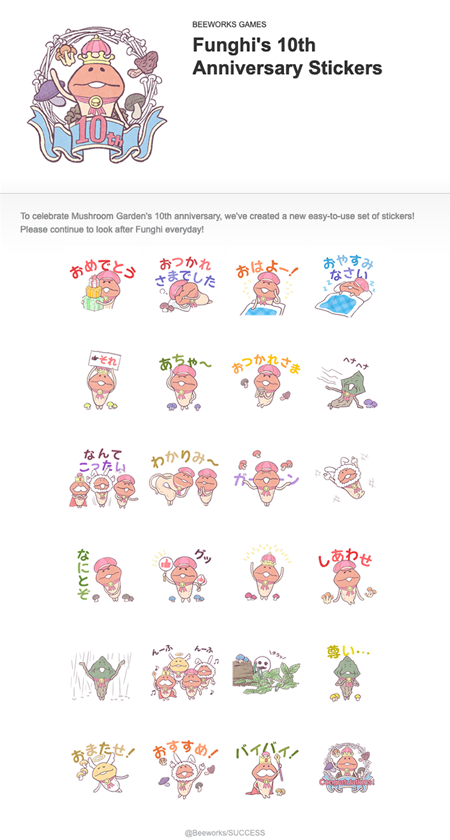 Mushroom Garden's 10th Anniversary Official Artwork are now Available as Stickers!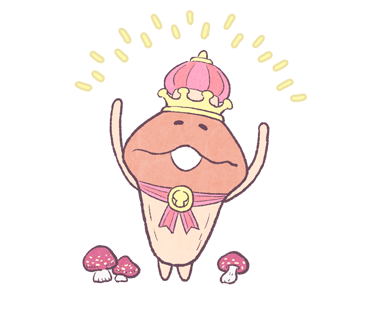 We've taken the bright and irresistably cute artwork from the Mushroom Garden 10th Anniversary event, and turned them into fun and easy-to-use stickers!
Download them onto your phone now and use them for years to come!

Be with Funghi 365 days a year with the new "Funghi's 10th Anniversary Stickers"!


LINE Sticker Details
Product Name: Funghi's 10th Anniversary Stickers
Price: 50 LINE Coin
# of Stickers:24
※To be added to LINE Sticker Premium soon (Available in Japan, Indonesia, and Taiwan)


Purchase Your LINE Stickers Here!